We love birthdays at our house, who doesn't though?!
We treasure each other's birthdays and we try to make the day as special as possible, without feeling like we need to break the bank to do so.
IT ALL BOILS DOWN TO MEMORIES
I generally love organising parties and events but we don't always have the budget to host parties for our kiddos (actually, make that hardly 
) 
However, one of the things that we endeavour to do as a family is to create moments or experiences that we will all hold dear for the rest of our lives.  Ultimately, our life experience will eventually come down to significant memories….and the most significant people in our lives are linked to the most significant memories. 
So, when it comes to birthdays, we have a standing tradition of celebrating the person's day the whole day, from the time they wake up. 
And I'd love for this to be one of the most special days in each kid's lives, so I'm always gonna be on the lookout for things we can add to make our birthdays even more awesome. 
Here are some of the things we've added onto our birthday traditions list, and the photos are from the recent birthday we celebrated: Hubo turning 6 
Feel free to incorporate whatever you think would work for your family, the idea is to create and enjoy memories that last with our families  
.
FILL THEIR ROOM WITH BALLOONS 
Our kids currently all sleep in the same room, so we put the balloons all over their floor and on the boys' bed early on the morning of Hubo's birthday.
But Zizwe was the first one to wake up and enjoy the surprise, and was so excited when he saw the balloons, he was screaming with excitement and woke Hubo up 
It was our first time doing the balloons thing and it was definitely a hit! 
.  Plus, a packet of balloons doesn't cost that much. 
You can even fill the whole house with balloons if you'd like. We had some down the stairs, and in the dining room…it just makes the home feel more festive 



But I think I should definitely  invest in a pump if this tradition is to continue 
I was up until 1am the previous night blowing up balloons! 
HANG STREAMERS ON THE OUTSIDE OF THEIR DOOR
We hung streamers on their door posts so that he would have a dramatic entrance/exit into their room for the day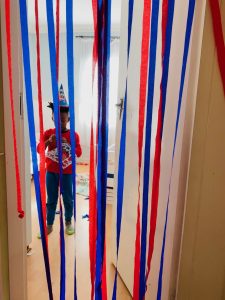 MONEY MONEY MONEY!!
I realised that our kids don't really have money of their own 
. We've been meaning to introduce allowances but haven't really gotten to it, so I thought it'd be great if everyone got money on their birthday! 
Remember how excited we used to be about getting money when we were young??! Yep! 
So, we decided we'd give each person R10 for every year on their birthday, so Hubo got R60.
And I came up with an even more awesome idea of putting the R10 notes inside some of the balloons that we put in their room, so that he could pop the balloons to find the money 
, and that was lots of fun and super special for the whole family 
.
SPECIAL BREAKFAST 
The birthday person always wakes up to a special breakfast, we decorate the dining area and have a nice breakfast 





I'd love to say I'm that mom who wakes up super early to bake and cook everything (ok, not really though
) but I usually buy everything ready made: muffins, croissants, yoghurt, fruit, flapjacks, pancakes, whatever…and of course the cake 
BIRTHDAY PERSON CHOOSES MENU FOR THE WHOLE DAY 
We haven't really done this but I think it's a great idea to let the birthday person choose what the family has for one or all meals of the day, or alternatively maybe just make their favourite food on the day .
SPECIAL OUTING 
This must be one of the best things about birthdays 
?.  We go on a special outing as a family. 
We give the kids a few options, based on what we know they like, and we spend the whole afternoon out and about. 
(PS: This is usually the most expensive part of the day, depending on what they choose & also because there are 6 of us 
…but it's still cheaper than a party
) 
Hubo loves lions and he chose to go to the Lion Park this year. 
It was a really great experience that I'd recommend for a family outing, special occasion or not.
You're guaranteed to see lions and a few other animals, you can do a self drive or do a guided tour.  There's cub interaction. The kids can also feed the giraffe on the property. Kids under 12 are free. And there are some things you ca
n do at no cost, eg. feeding the giraffes; so the outing can really accommodate different budget points 
.













Ok, I think that's it for our traditions for now. 
Some more ideas that we're toying with but haven't really included: 
BIRTHDAY INTERVIEW 
I'm thinking of drawing up a set of questions that the birthday person can answer each year. I think it'd be valuable to just remember what the person was like and things that they liked throughout the years. 
You could even store it in a birthday file or something together with photos from that year. 
I'm so good with ideas but not execution ??‍♀️
You can actually find a few free printables of birthday interviews on Pinterest or create your own questions, but I think I'd like to add this to our list of traditions, it would take a few minutes at the breakfast to complete.
EMAIL/LETTER 
One idea that I know would be a super valuable item in the future is if we (parents) would write a sentimental letter to the child each year, and either keep these or email them, so that they can read them at a much later stage, or maybe at a particular milestone or birthday.
You could include all kinds of stuff, like what you like about them, what they are like, what your hopes for them are, etc.
HONOURING SESSION
So, we typically do this when it's me or my husband's birthday, when the kids get to say something that they love/enjoy about the birthday person or share special memories of them. 
I think it's something that would be valuable for the kids to hear what they rest of the family thinks of them 
.
Ok, that's really it now 
Do you think you'll incorporate one or more of these ideas? Was this helpful?
We'd love to hear from you 🙂
We'd also love to hear what your family does, maybe we can steal some of your ideas too 
.