The kids have been away at Makhulu's house and we took the opportunity to do something fun together 🙂
We did a hike at Klipriviersberg Nature Reserve.
So, here's some information on the nature reserve and a few tips on doing the hike:)
I must say, I thoroughly enjoyed this excursion, it was so refreshing! For me, it's actually right at the top there as one of the best date ideas in Joburg, mainly because of the first 2 points below! haha!
CONVENIENTLY LOCATED
It's conveniently located, in the South of Joburg. It's such a pleasant surprise, right in the middle of Joburg. I love that you don't have to travel far to experience this vast natural beauty. Over 700 hectares of open veld and koppies, about 10km from the city centre, 5km from Soweto & 25km from Sandton.



The most popular entrance is on Frandaph Drive in Mondeor. If you enter Klipriviersberg Nature Reserve on Google Maps, it'll take you straight there.
ABSOLUTELY MAHALA!
Like, zero Rand-elas!! It's so hard to find free, fun things to do in Joburg these days, so this was definitely another pleasant and highly welcomed surprise
?
THERE'S SOMETHING FOR EVERY FITNESS LEVEL
The reserve caters to various fitness levels, there are different trails, ranging from under 2km to over 9km. You could even make it an outing for the whole family and you'd be able to find a suitable trail.
We followed one of the more challenging trails because we wanted to get to the top.


But still, it was not bad at all, it was a nice "you're-out-of-breath-at-some-points" challenge but of course with enough strength to take selfies haha!
ALL DAY EVERY DAY
The reserve is open from sunrise to sunset every day, and there are guided tours every second and fourth Sunday of the month, and the rest of the time you can do a self-guided hike.
And now for the tips:
TIP #1 : Take A Photo Of The Map At The Entrance
You won't get handed a map at the entrance but there's a big map as you enter, that shows you all the trails.


Take a picture of this or download the map on their website or below. There are quite a number of trails, and it can get a bit confusing, and you won't have any information boards or people to refer to along the way.
TIP #2: Take A Backpack With Everything You Need
Take a backpack that can fit all the supplies you'll need for the hike, but obviously not one that's too heavy because you'll be carrying it
. Or you can always get the other person to carry it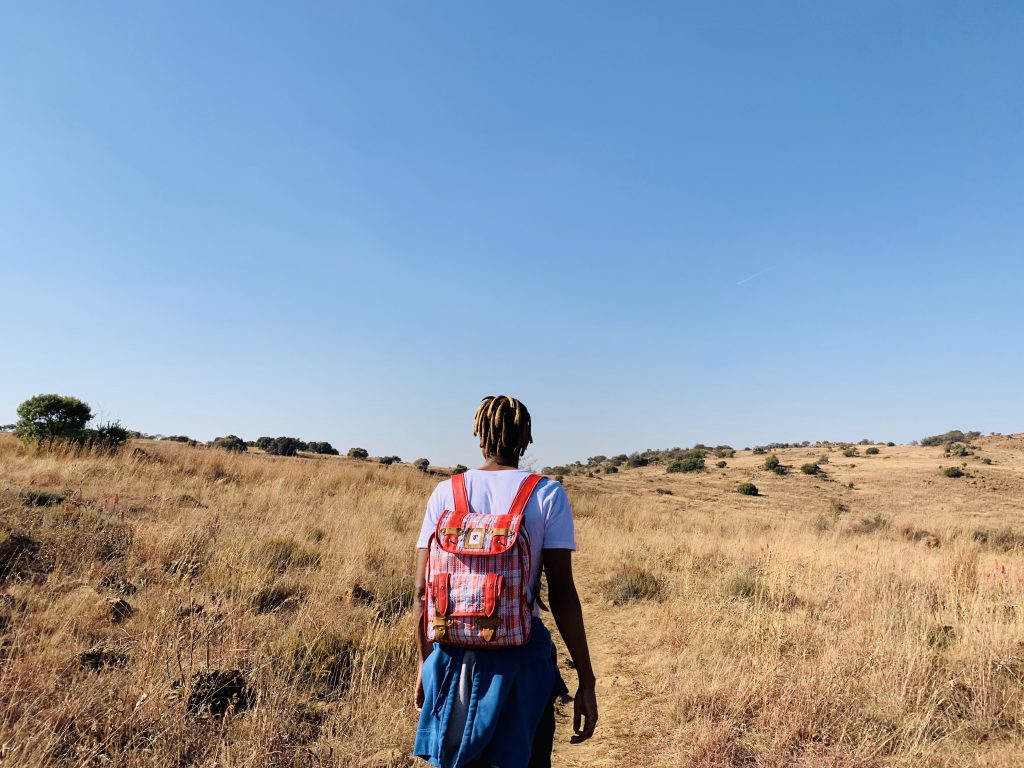 I actually thought it'd be nice to take along one of those cute picnic backpacks next time, so we could have a romantic picnic when we get to the top.
TIP #3: Give Yourself Enough Time
We were there in the early afternoon, and started our trek back in the last hour just before sunset, and it was absolutely beautiful….the sunset just making everything glow
. And you know at that time of the day, the African sun just feels right on the skin too!
The only problem though was that we got a little bit lost coming back, and then we started getting a bit worried because the sun was now setting so quickly and we weren't really sure how far we were from the gate….and I started thinking about being locked in at the reserve on a cold winter night!
.
So, don't be like us…give yourself enough time to wander and get lost. Like I said, the directions can get a little bit confusing
.
TIP #4: Take Time To Take It All In
Being in nature always triggers some sort of reflection for me
It's such a great opportunity to be "one with nature" and just forget about the daily stresses and demands of life and focus on the things that are truly important.
It was a significant moment for us, as we've been going through a somewhat rough season in our marriage, and we took this opportunity to just chat our issues out.
As unpleasant as those moments where you have to have real conversations are, doing it in a beautiful space like Kliprivier really helped
. And maybe because we were right at the top, we were much closer to God and there was more grace
.
Tip #5: Have Fun…of course!


Anyway, my people, do Klipriviers, I think it's something that most people would enjoy
️
Please share some of your best date ideas with us too 🙂